Conference Dinner: Sydney Harbour Cruise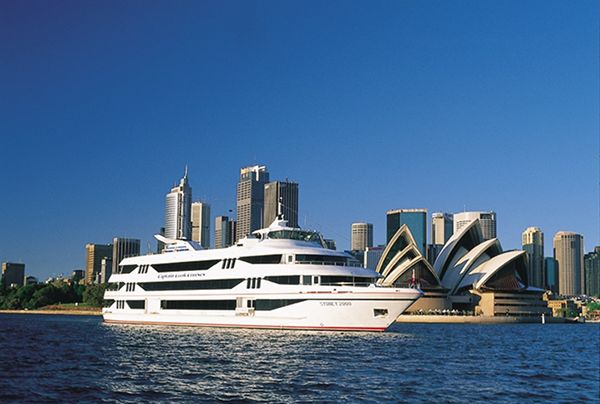 Dinner Cruise
Hop on a ship, and experience the spectacular sights in one of the most beautiful harbours in the world!
We are pleased to advise that this year's conference dinner will take place on aboard Sydney's most prestigious dinner cruise ship MV Sydney 2000.
Date: 24th October 2013
Boarding time: 6:45pm
Boarding location: No. 1 King Street Wharf (see directions below, 15 minutes to walk around the shore)
Dinner: Sourdough Bread with oil and balsamic vinegar on tables on arrival, Captains Buffet Menu as below followed by tea and coffee
Captains Buffet Menu
Seafood
Freshly Cooked Prawns with Aioli (3 per person)
Poached Salmon with dill and capers
Seafood and Vegetarian Sushi with Sweet Soya
Mains
Warm Tart of Leek and Kangaroo Island Blue Cheese with Wild Rosella Chutney
Sliced Leg of Virginia Ham with Mustards and Relishes
Sliced Roast Sirloin of Beef with Sauce Béarnaise and Roasted Vegetables
Seared Free Range Chicken Breast with Pancetta
Salads
Pesto Risoni
Wild Rocket and Baby Spinach with Shaved Parmesan and Cherry Tomatoes with Italian Vinaigrette
Baby New Potatoes with Crisp Bacon and Chive Cream Dressing
Mixed Fresh Breads
Desserts
Chocolate Brulee Tart with double cream
Platter of Fresh Fruits
Drinks included:
Tea and Coffee,
Soft drinks and juices,
Toohey's New and Hahn Premuim Light beers,
Tyrrells red white and sparkling wines included,
Spirits and more can be purchased at the cash bar.
Directions:
More information on the cruise can also be found on the cruise operator's Web site: Captain Cook Cruises.